Human Brain processes visuals faster than text. This is why today's marketers are switching there approach from being content heavy to a more subtle and innovative way.
Video Marketing has become popular for many businesses, and this probably will be a part of the marketing trend in 2019.
Most of the customers often buy a product and/or service after watching a video either online or on their televisions.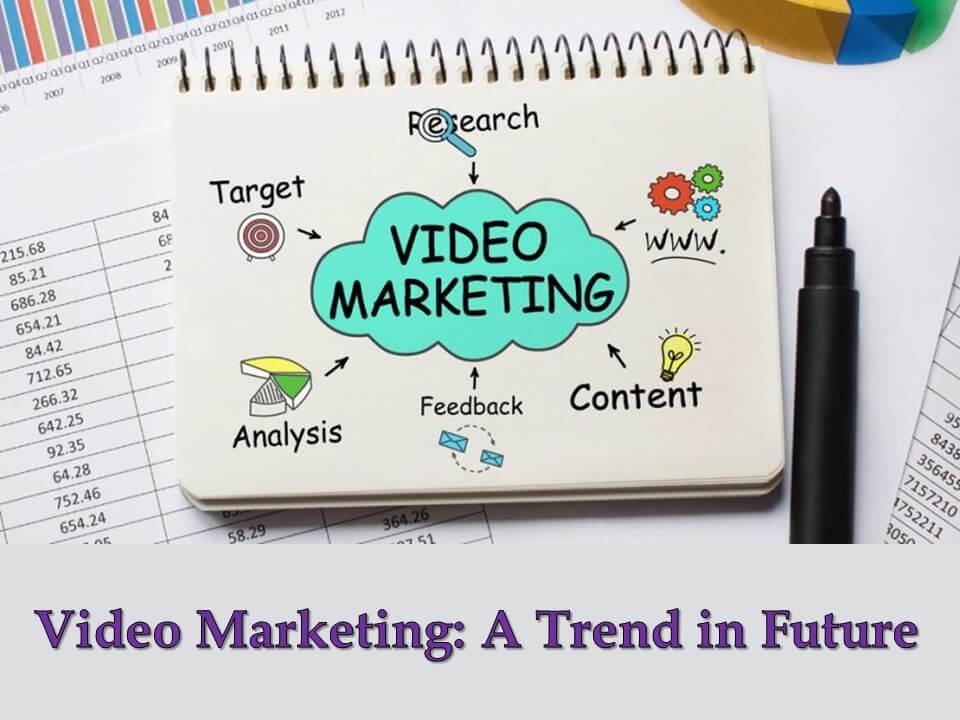 Also, video content is a better way to present the information in a more creative and effective way.
What is Video Marketing?
Marketing the products and/or services, brand value, identity and creating awareness among the customers through a video defines video marketing.
Being data-driven, it is more complicated to understand. As a marketer, you would require monitoring the statistics on a regular basis and figure out what did not work well for you.
It has higher chances to attract more audience and traffic. Few statistics from a post on HubSpot says
Approximately 83% of the people in the world prefer YouTube to watch video content online.
73% of the consumers watch entertaining videos on social media platforms.
An average video manages to attract about 37% of people or viewers.
Video marketing can be used to promote testimonials, live-stream events or seminars, entertaining content or build customer rapport.
Benefits of Video Marketing
Through video marketing, different brands promote their products and/or services, and as a marketer, you would always try to bring in more prospects to the business.
Video Marketing has multiple advantages which will prove beneficial for your business if you monitor them well.
Also Read: 5 Proven Ways of YouTube Marketing to get more Traffic to your Website
Improves Buying Behaviour
Different buyers have different preferences. Video content helps to explain how to use a particular product, personal experience while using it, reviews or distinct features which serves as useful information for the customers before they decide to buy.
It creates a connection and involvement with the brand and brings more customers into the business. The more you share your video content, the better it will perform with your target audience.
Decreases Bounce Rate
Earlier, websites or landing pages did not involve any video content.  Readers visiting the page bounce backed within say 30 seconds. This declined the ratings of the page.
Adding video to your homepage or landing page can improve the bounce rate since readers will stay to watch the video. It will also help businesses to grab customer attention. 
As Social Media Posts
Social Media is known for its changing trends and accessible content. Almost every business use different platforms of Social Media to engage their customers and increase their ratings.
Videos add more fun to your content and communicate information in a short span of time. You can include product reviews, user experiences, tutorials and related stuff to be grab attention and be distinct. 
Improves Return on Investment
Readers spend more time watching a video than reading content. They find it more attractive and engaging with probably similar content like an article or blog post.
They receive relatively good traffic, and it is not necessary that only perfect videos can be published online. In a video what matters is the content.
If your video is interesting and fulfills a viewer's requirement, then it can work even with minimal design.
Boosts Sales and Conversions
Most of the customers end up buying a product or availing a service by the end of watching a video. Videos help to increase brand awareness, and customers feel more connected to the brand.
Due to an increase in customer engagement, businesses can make more money these days. The conversion rate has increased bringing in more profit and sales.
How will things be in 2019?
Video Marketing will be one of the most popular forms of marketing in the coming years. There are different formats available today to make a video, however; you need to figure out which will work better according to your business type and customer base.
Live Streaming
This is a trending form of video marketing where businesses try to attract the audience without investing in many parts of the production or editing.
Live streaming allows you to promote your products and services with a time sensitive option to engage a specific audience or group.
E-learning videos
It is a more flexible form of videos where the products and/or services are not used for promotion and instead educate the audience.
Such videos can be used to cater to the requirements of the customers as answers to the popular questions or train employees as a part of in-house training.
Vertical or Square Videos
People now prefer to watch videos on their mobile phones over laptops or desktops. This has changed the way videos display online.
Today, more videos are designed in vertical or square shape to be mobile friendly and serve a better viewing experience.
Facebook and other social media networks are popular for videos in square format. Such videos help to get more viewers thus, increasing engagement.
Sponsored Videos
Sponsored Videos are an easy way to make money on platforms where the number of your customers is high. Your video can adapt the content specific or problem-specific approach to engaging people.
You can partner with different social media platforms which will help you to promote your business, brand and improve the return on investment.
All these are already in trend and have been adopted by many marketers and businesses. Further changes will add up to the advancement of marketing tactics and a more positive experience.