Are you looking for making money online? Today, there are several ways to earn money online. So, one might get confused to select the best way to earn money. Some services also motivate you to earn money and later on, they forge you with no money in your pocket.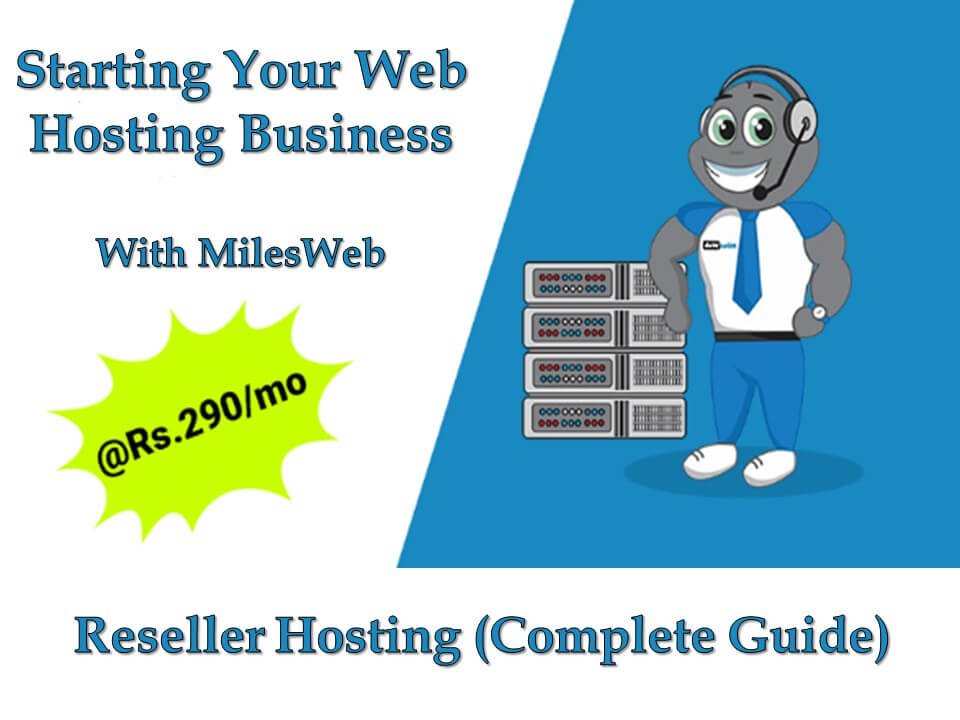 Also Read: Exceptional and Robust Shared Hosting Service for Your Website
This might even happen to you. So, you need to select a proper niche for earning extra online. If you are web developer or web designer, you might be serving several people with your services. Have you thought about offering web hosting services? Your clients would get everything under one roof. They won't require searching for web hosting services to host their website.
Now that you have planned for starting your web hosting company, you will need to find a good hosting provider that offers you white label reseller hosting. Have you heard about MilesWeb reseller hosting? Let's check for MilesWeb's cheap Linux reseller hosting plans.
MilesWeb – The Best Indian Web Hosting Provider:
Started in 2012, MilesWeb is one of the popular web hosting companies in India that was started by three experts. Their team is expert in Linux & Windows administration, cPanel and Plesk control panels, website migration without data loss and virtualization technology. MilesWeb offers array of web hosting services such as shared, VPS, dedicated, cloud, WordPress, reseller and other application hosting services that fulfill the requirements of all types of websites.
MilesWeb Cheap Reseller Hosting:
MilesWeb's reseller hosting motivates you with their tagline "Setup a Web Hosting Company & Be Your Own Boss!". You don't need to invest huge and don't need to worry about the management of infrastructure. All is managed by the MilesWeb's team for you as well as your client. Simply buy the reseller hosting plan of your choice from them, re-create your own packages for your clients and start selling hosting service with your own brand name.
Check below the unlimited Linux reseller hosting plans of MilesWeb:
Features of MilesWeb's Cheap Reseller Hosting Plans

:
Amazon Cloud Platform:
MilesWeb is the first Indian web host to offer reseller hosting on Amazon Cloud Platform. All websites hosted with MilesWeb reseller hosting are powered by Amazon cloud. This helps your website to get enhanced performance as well as security.
Server Location Choice:
As per Google, your server location should always be nearby your target audience as it improves your website SEO and ranking. You can select your preferred server location for your unlimited cheap Linux reseller plans. They have their servers located in India, US and UK.
White Label Option:
White label hosting is when you are able to rebrand your dashboards, support tools and other aspects of your reseller website. It helps you to create your brand, instead of selling the services under the brand of your hosting provider. MilesWeb offers reseller program that is completely white labeled and allows you to brand your control panel, anonymous server names, use custom DNS and more.
Ability To Upsell Products:
MilesWeb keeps you as well as your clients happy by allowing you to sell add-on services to your clients. They offer a reseller marketplace that allows you to sell array of products such as dedicated IP, SSL certificates, automatic backups, SpamExperts, WHMCS, discounted VPS server plans and Data Backup solution for mobile, cloud and virtual environment.
Good Uptime Score:
Since you are a reseller, your website's uptime score needs to be highest. If your website uptime goes below 99%, it will create a negative impact on your customers' business. MilesWeb offers you 99.95% uptime guarantee which helps to keep your website always up and running.
Customizable Packages:
Every business and client needs are unique and therefore, being a reseller, you will need to sell customized packages. This will allow you in scaling the services as per the demands of your clients. MilesWeb offers you customizable packages so that even if your clients' requirements change or you need to upgrade the packages, you can do that easily.
Sound Support and Money Back Guarantee:
Your clients might face any issues on their website related to technical issues. But you don't need to worry as the MilesWeb team is available 24/7 to help resolve all the queries of you as well as your clients. Also, if you aren't satisfied with their reseller hosting, you can claim for the refund within 30 days of the service purchase and get your money back.
Bottom Line:
If you want to earn extra there are many ways to do so. But with MilesWeb Linux and windows reseller hosting you can not only earn extra but start your own web hosting company. This means they offer you something more to your income. So, sign up with MilesWeb reseller hosting at just Rs.290/mo and be your own boss.